Ochre
[Javana Textile colors]
Water-based paint for light textile, 50 ml (1.69 fl.oz)
Sales Paused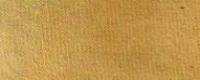 Javana Tex
SUNNY:
The brilliant fabric paint for light colored textiles.
OPAK:
The highly opaque and brilliant fabric paint for dark colored textiles.
METALLIC:
The fabric paint with a metallic effect for light and dark colored textiles.
Highly opaque
Ready to use.
Water-based.
Intermixable.
Can be thinned with water.
Suitable for fabric painting, airbrush, all fabric printing techniques
and stencilling.
If necessary thicken with Javana Tex Pastos.
Apply on textiles after all sizing has been removed.
Let dry.
Heat set by intensive ironing from the reverse side for 5 minutes (cotton setting),
or simply let air dry (min.3 days).
The fabric is then lightfast and washable
(reverse side, up to 60°C, Metallic paint - up to 40°C).
Mix well before use !
Protect from frost and heat !
Clean brushes with water.
C.Kreul, Germany
50 ml / 140 g C.Kreul
Javana Textile colors