Polydine Solution 100
[Dr.Fischer]
Liquid Broad spectrum Germicide. Film Forming. For treatment of wounds, minor burns and infections. Effective First Aid disinfections. Soft analogue of Iodine, but does not bite a skin. 100 ml (3.38 fl.oz). Israel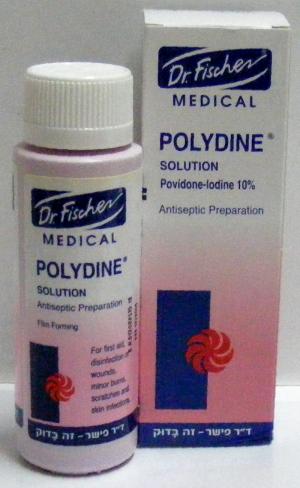 Dr.Fisher: Polydine
Medical Polydine Solution.
Allowed for free use without doctor's recipe.
For external use only.
Antiseptic Preparation.
First aid for the treatment of wounds, scratches and mild burns.
For treatment of skin infections caused by bacteria or fungi.
Polydine Solution can be applied directly to wounds and allowed to dry where it forms a protective film.
Apply Polydine Solution 2-4 times daily until the wound is completely healed.
Warnings:
Use on extended body areas should be restricted.
A doctor should be consulted regarding use on deep wounds and major burns.
Do not use this preparation if you have a known sensitivity to iodine or any of this product's ingredients
Do not use without consulting a doctor before commencing treatment if you suffer or have suffered in the past
from disfunction of the thyroid gland.
Child resistant safety cap.
Press and turn to the left.
Use and precautions see package insert.
Keep in a cool place.
COMPOSITION:
Active ingredient: Povidone-Iodine 10%
Inactive ingredients: Trisodium Phosphate, Sodium Laureth Sulfate, Purified Water.
Dr.Fisher, Israel
Alvitan Note.
This preparation may be use also for treatment of small wounds on your cat or dog.
100 ml / 145 g Dr.Fischer
Dr.Fischer
Medicine without recipe