Pen-Brush Set 24 Deli
[Other Art-Wares]
Synthetic round brush with barrel, filled with liquid washable ink. Set 24 colors. Each brush d=4mm, s=13mm, Total length L=187mm. Deli, made in China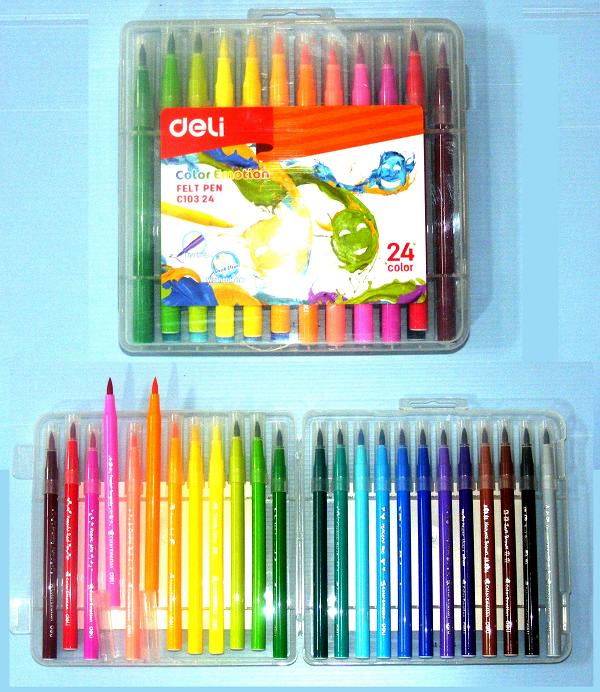 DELI Color Emotion Felt Pen 24 colors
Brush tip, washable Ink, Bright Colors, Ventilated Cap.
Brush tip for more flexible and impressive drawing effect.
Optimized laydown for a great coloring experience.
Washable ink for clean use.

The Composition:
Dreamy Plum
Hopeful Red
Poetic Pink
Passion Burgundy
Original Blush
Energetic Orange
Exotic Gold
Funny Yellow
Friendly Yellow
Cool Green
Idealist Green
Mild Green

Vigorous Green
Creative Green
Cold Blue
Pesiful Blue
Trust Blue
Faithful Blue
Farhasy Purple
Mystic Violet
Natural Brown
Zen Brown
Bold Black
Neutral Silver
See here
COLORS CHART
The Set may contain small parts, not for children under 3 years.
Code C103 24.
Plastic transparent box 187 x 179 x 31 mm.
Each Pen-brush size: Length 167mm, Diameter 10mm.
Round Brush Tip Diameter 4mm, Length 13mm
DELI, Made in China
314 g / 330 g Other Companies
Other Art-Wares
Pen-Brush