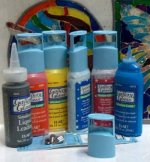 Plaid Gallery Glass colors
[Plaid]
Window Colors: Water-based transparent Gels for 3D painting on Glass

Gallery Glass Window Color

Gallery Glass Window Color.
Transparent gel for Glass to create 3D-relief.
Ready to use.
Do not shake or stir. Water-based Gallery Glass Window Color dry to a textured finish
that simulates the look of Cathedral Stained Glass.
Window Colors are non-toxic and easy to use,
available in 24 decorator colors.
Colors can be applied both vertically and horizontally
and can be used on windows, Glass, Mirrors, Plexiglas, and styrene.
Gallery Glass can be peeled off and re-applied once dry.

Plaid, USA.