Fabric Colors 12
[Faber-Castell]
Acrylic Paints for textile, earthenware, Canvas, Wood, Thermacole. 120ml: 12 x 10ml (4.05 fl.oz.) with Brush, stencil, instruction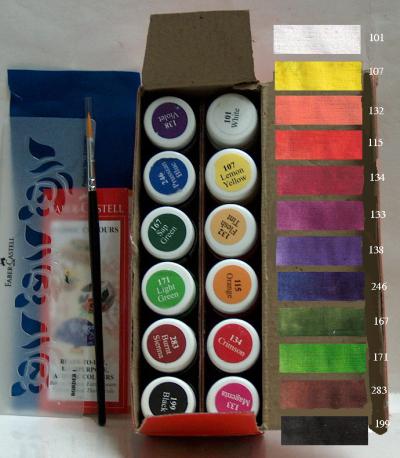 The water soluble multipurpose acrylic colours.
Ready-to-Use.
Best on Fabrics, Earthenware, Canvas, Wood, Thermacole, etc.
- Rich and soft colors that work well on both light and dark surfaces.
- Dry quickly and are permanent
- Fabrics remain soft post application.
- No medium required.
- Intermixable and can be thinned with water.
- Ideal for beginners, students and hobbyists.
1. Shake the bottle well before use.
2. Wash fabric thoroughly before painting to remove starch.
3. Dry and iron to remove creases.
4. Use color directly from the bottle.
5. Dry for 24 hours.
6. Iron on reverse side for color fixation.
7. Wash after 72 hours.
10ml x 12 jars.
The colors:
101. White
107. Lemon Yellow
132. Flesh Tint
115. Orange
134. Crimson
133. Magenta
138. Violet
246. Prussian Blue
167. Sap Green
171. Light Green
283. Burnt Sienna
199. Black
120 gr / 470 g Faber-Castell
Faber-Castell
Color Sets for Textile